Commerce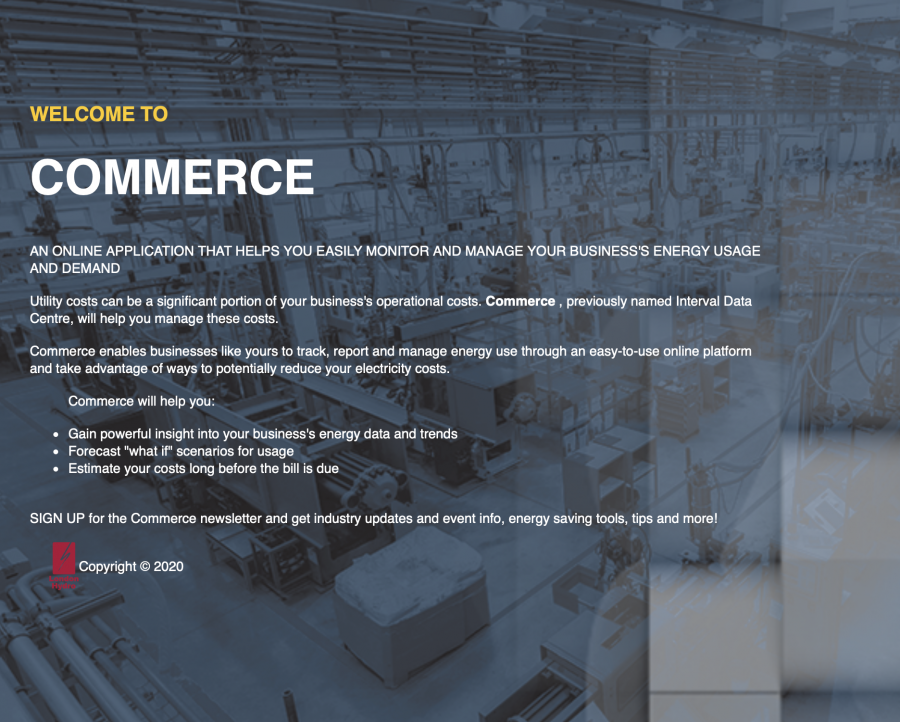 A powerful energy monitoring application connected to interval-metered usage and analytics using Green Button Data, Commerce is a self-service tool that allows business customers to easily manage and track the usage of large operations. Commerce provides powerful insight into energy data and trends while allowing customers to forecast "what if" scenarios and estimate their costs long before the bill is due.
Notable Commerce features include:
Email and SFTP Integration that enables easier integration to Commerce for customers with facilities outside of your distribution service territory (non-utility-owned meters)
Enhanced user experience with a customer-friendly look and feel that includes online Global Adjustment reports, electronic Class A and Class B status applications, and enhanced stacked bar graphs, weather charts, facility reporting tools, and much more
Enhanced Global Adjustment Tracker feature that displays current and adjusted provincial peaks 
Historical Meter Comparison feature that allows customers to view two periods of time on the same graph  
User Preferences give your customers the ability to configure certain default settings so customers can customize the application the way they want to view it
Auto-suggest feature includes Delegate Notifications that allow businesses to delegate their Commerce application to multiple employees or third-parties who track energy statistics on their behalf
Customer Feedback
"[Commerce] has simplified the process of collecting and analyzing historical energy data and has allowed us to make adjustments to meet our savings targets." - Rob Davidson, Ameresco
"It's the perfect way to view my building's energy profile as well as to keep track of my energy saving projects and see how they affect overall consumption."  - Illona Covaliu, Bluestone Properties
Want to find out more?
Please complete this form for more information on London Hydro's Commerce.